Pier Accessories
Canoe Rack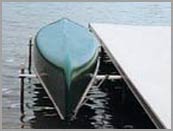 Now you can enjoy canoeing without bailing! Vinyl-covered arms permit canoe to be turned over and slid into and out of the water while you stay dry. The generous five foot width permits storage of two kayaks.
Pier Stairs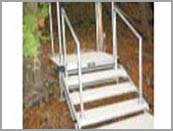 Designed for easiest access to shallow water. Children and older adults really appreciate the 12" X 46" treads. Optional handrails are shown.
Pier Benches and Tables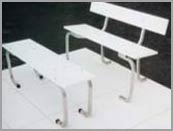 Attaches to pier deck. Comfortable, sturdy, and wide enough for two people. Keep food, drinks, and reading materials within easy reach and off the wet deck.
Pier Ladder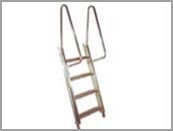 The Pier-A-Matic ladder attaches to the underside of the pier so no deck space is lost to the ladder. Telescoping legs rest on the lake bed and swimmers never have to step up more than 10" to the lowest tread. Deep, flat treads are comfortable for bare feet.
Vertical Rub Rail for Pier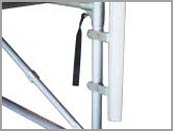 The most effective rub rail on the market! Protects your boat as it rides up and down from wave action and water level fluctuation. The 2' vertical rub rail (shown) is flush with deck. The 3' and 4' rub rails can extend above deck. Shown with optional boat tie strap.
Pier Corner Walk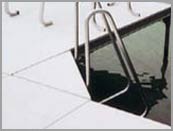 Useable deck area is increased significantly with corner walks. "Jaywalkers" are kept safe. A convenient location for ladder.
Auger Posts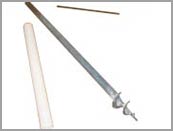 Hold boats securely in windy conditions. Protect boat from scratches with 3′ long white or beige covers. Turn bar helps get post into lake bottom the desired 18″ – 24″.
Dry Installation Pole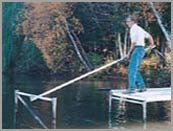 Yours can be the first pier in the water each spring with this handy device for installing the legs of your Pier-A-Matic. You stay warm and dry!
Horizontal Rub Rail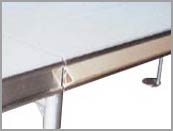 The Horizontal Rub Rail protects your boats from banging into the pier. The rub rail is available in any length multiple of 2'.
Boat Rack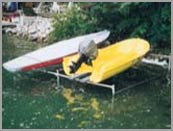 Boats easily slide in to and out of the water with our boat rack. Adjustable legs permit you to customize slope for water depth and wave conditions. Available in single, double, or triple sizes.
Raft-A-Matic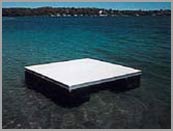 Can be installed as one 300-pound unit or quickly assembled for an easy two-person job. Heaviest component is 80 lbs. Floats are heavy duty plastic and filled with foam.